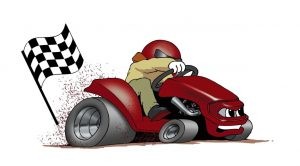 Ray White Cowra are very excited to announce that we will be teaming up with the Cowra Show Society for the first ever lawn mower race ! On Saturday 13th October 2018, a lawn mower racing competition will be held at the Cowra Showground that the community can be a part of ! Unmodified and modified categories are available as well as mens, womens, juniors (15-17 years) and businesses.
Ride-on mowers are a very real part of the Australian way of life, but a new way has been developed to add a whole lot of fun to the humble ride-on mower, and that is RACING. To enter, simply print out the Lawn-Mower-Racing-Entry-Form, fill in your details and return it to the Ray White Cowra Office located next to Subway. Alternatively, you can also collect an entry from from the office.
Please ensure you have read the Rules and Regulationsassociated with the race located here —> https://www.cowrashow.com/spring-show-schedules under Lawn Mower Racing Rules.
You will also be required to sign a Participant Risk Acknowledgement and Waiver prior to the event.
Any questions? Give the office a call on 02 6341 1311 and we will happily assist !
HAPPY RACING !